Tale of two families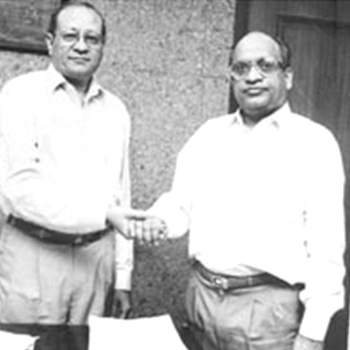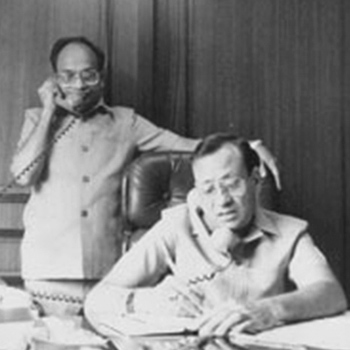 Mr. R. S. Agarwal and Mr. R. S. Goenka, Founders, Emami Group, in their first rented office, Kolkata
Sustainable growth and excellence

Emami is a growth story of a dream that started with a humble beginning and transformed into a reality of a business behemoth. Challenges came during the journey but were met with determination and grit to make it BIG and success became the order of the day. Based on "Innovision", where capabilities are driven through world class innovation based on deep consumer insight, Emami is a reputed business group which is committed to stringent principles of corporate governance. Led by the visionary Chairmen Mr. R S Agarwal and Mr. R S Goenka with the help of the second generation Promoter Directors from the two families, Emami Group boasts of a workforce of over 20,000 people as on date.

A humble beginning

The inception of Emami Group took place way back in the mid- 70's, in West Bengal, when two childhood friends, Mr. R. S. Agarwal and Mr. R. S. Goenka left their high profile jobs as Chartered Accountants, with the Birla Group to set up Kemco Chemicals, an Ayurvedic medicine and cosmetic manufacturing unit in Kolkata, in 1974 with a meagre capital of Rs 20,000.

It was an extremely bold step for a home-grown business entity during those days when the Indian FMCG market was still dominated by multinationals. However, a burgeoning Indian middle class with an increasing potential for consumption assured a bullish trend in the personal care market in the mid-70s. Both Agarwal & Goenka powered by their keen sense of the consumer insight and business vision realized the importance of the herbal revolution of Ayurveda and started manufacturing cosmetic products as well as Ayurvedic medicines under the brand name of Emami in 1974 from a small office (still retained) in Kolkata's business district of Burra Bazar.

Differentiate or die. Innovate or perish.

The friend-cum-business partners knew too well that it wasn't an easy task to make a mark in a sector dominated by companies with deep pockets. Disruption was required to get noticed and sustain in the market. The partners started off by launching Emami Talcum Powder, Emami Vanishing Cream, Emami Cold Cream and Himani Glycerine soap, which were great favourite brands with the quality conscious consumers in the mid-seventies. Both the friends began selling the cosmetic and beauty products piled in the back of a hand-pulled rickshaw.

Initiating their legacy of innovation, they introduced imported French perfume fragrance and innovative packaging in laminated plastic containers with international standard Japanese pasting of labels with chic golden borders and motifs which made the products an instant hit in the market. Nothing similar was available in the market and the products were perceived to be imported. Huge consumer response yielded good margins for the retailers who pushed Emami products on their own thus helping the friends to chart the path towards success. Both the products became immensely popular and by 1978, Emami vanishing cream became the market leader with 22 % market share and Emami talcum powder became the No.2 brand in its category in India.

Acquiring Himani Ltd

In 1978, Himani Ltd had become a sick unit and was up for sale. Himani, almost a 100-year-old company with good brand equity in Eastern India and a well laid out factory in Kolkata, was producing a number of cosmetics. Mr. Agarwal and Mr. Goenka realized the opportunity and acquired Himani, which later on proved to be the turning point for the organization. Their desire for differentiation got manifested in reinvention of products like Himani Snow, Himsar Tel and Himani Glycerine Soap. Dividend reaped from this reinvention was pretty rich.

In 1995, Kemco Chemicals, the partnership firm was converted into a Public Limited Company under the name of Emami Ltd. In 1998, Emami Ltd was merged with Himani Ltd and its name was changed to Emami Ltd as per fresh certificate of incorporation dated September1, 1998.

Introducing power brands - BoroPlus and Navratna

Ten years after commencement of Kemco Chemicals, the first flagship brand of BoroPlus Antiseptic Cream was launched under the Himani umbrella in 1984 followed by many successful brand extensions. Today BoroPlus is not only the largest selling Antiseptic Cream in India but also in Russia, Ukraine, and Nepal.

The next flagship brand of the company Navratna Cool Oil came in the 90's under the Himani Umbrella, the brand which made the concept of therapeutic de-stressing cool oil a national phenomenon in a market which till then was aware of traditional hair oils only. The second plant was eventually commissioned at Pondicherry to expand production. Navratna, over the years, has become market leader in the cool oil category.

Emami, a pioneer of ideas

In 2005 Emami created a marketing history in India by launching Fair and Handsome, the first fairness cream for men. Consumer researches by Emami revealed that 30% to 35 % of users of fairness creams are men, who are closet users with a growing interest in personal grooming. Emami created a completely new market segment by introducing India's first fairness cream customised for men. The sales of Fair and Handsome in its first year had touched around Rs.50 crores. Bollywood Badshah Shah Rukh Khan's association with Fair and Handsome as its brand ambassador helped it to eventually become the most popular and largest selling fairness cream for men in the country, gaining huge consumer trust.

Growing through Diversification

With the passing years, under the strong and visionary leadership of Mr. Agarwal and Mr. Goenka, Emami, as a brand, gradually diversified into various sectors of business. Apart from FMCG, brand Emami enjoys leadership presence in diverse segments such as paper, edible oil, biodiesel, hospitals, real estate, retail, ballpoint tip manufacturing, art etc. From the lanes of Burra Bazar, the journey of the brand Emami has travelled many miles to emerge as a huge and diversified business conglomerate.

Growing through the inorganic route

Emami Group owes the magnitude of its growth to a series of mergers & acquisitions done primarily on the basis of right fitment of the acquired company/brand with its overall vision and strategy. Post every acquisition, Emami has always successfully breathed new life into old brands through professional management and creation of successful brand salience by infusing a contemporary touch.
Starting with the acquisition of the century old sick brand of Himani Ltd in 1978, Emami created one of the greatest milestones in the history of the Indian FMCG business in 2008, when, it took over another heritage Ayurvedic brand of Zandu Pharmaceuticals Works Ltd. Described by the market as one of the few hostile bids in the history of Indian FMCG business that eventually became a mutually beneficial takeover, this acquisition worth Rs 730 cr brought some of Zandu's prominent brands like Zandu Balm, Zandu Chyawanprash, Zandu Kesri Jeevan, Zandu Pancharishta, and Nityam Churna under Emami's basket of brands. Within the first full year of operation post the acquisition, the Company became debt free within a year of the deal. Zandu got merged with Emami in 2009.

Over the years the Group went on making a series of other acquisitions of varying magnitude like Frank Ross, the iconic 100-year-old pharmaceutical company, heritage homeopathic brands like King & Co and M. Bhattacharya, a heritage hair oil brand of Bengal named Lakhi Bilas and so on. In 2014, the edible oil segment went on to acquire Rasoi Vanaspati, a trusted brand of 50 years.

In June, 2015, Emami Limited created another milestone in the M&A history of FMCG when it acquired the hair & scalp care business of 'Kesh King' for Rs 1684 cr. The acquisition marked Emami's foray into the Ayurvedic Hair & Scalp Care segment. In January 2019, Emami Limited also acquired Creme 21, a German brand with strong roots & brand recall.

Emami Group of Companies still continues to look at acquisitions which have great synergy with its business plans both within and outside the country.

Global footprint

Charting a dynamic growth path over the years, Emami today has successfully established itself as a global brand with Indian values. With a significant presence through its business in over 60 countries, Emami's global reach extends to countries including SAARC, MENAP, SEA, Africa, Eastern Europe and the CIS countries. Emami Limited, the FMCG arm of the Group has also come up with its first overseas manufacturing unit at Ghazipur in Bangladesh which commenced production in 2012.

The Power of Celebrity

Emami has successfully established its brands through strong celebrity endorsements. In a market where competition is intensifying, product life-cycle is shrinking and strategic management of a company is gaining pivotal position Emami's inclusion of celebrities as brand ambassadors established that it strictly relies on its own unique method of retailing. It is the only brand in the country to have both Amitabh Bachchan and Shah Rukh Khan as endorsers for the same brand, Navratna. To name a few celebrated and acclaimed entertainment and sports personalities who have endorsed Emami products over the years- Amitabh Bachchan, Shah Rukh Khan, Salman Khan, Kareena Kapoor Khan, Hrithik Roshan, Kangana Ranaut , Katrina Kaif, Varun Dhawan, Shahid Kapoor, Tiger Shroff, Kartik Aaryan, Bipasha Basu, Sonakshi Sinha, Rekha, Juhi Chawla, Vidyut Jammwal, Dharmendra, Govinda, Divya Bharti, Preity Zinta, Malaika Arora Khan, Mahesh Babu, Surya, Chiranjeevi, Yami Gautam, Shilpa Shetty, Parineeti Chopra, Tapsee Pannu, Kriti Sanon, Sonakshi Sinha, Pt. Birju Maharaj, Mahendra Singh Dhoni, Sourav Ganguly, Sachin Tendulkar, Virendra Sehwag, Harbhajan Singh, Mary Kom, Sania Mirza, Saina Nehwal, Milkha Singh , Sushil Kumar among others.

Emami was one of the very few companies to introduce in –film advertising in the Rajesh Khanna - Rekha starrer Hindi film Agar Tum Na Hote in 1983 where the lead actor Rajesh Khanna portrayed the role of the Managing Director of Emami.